Litterbox By Litterlocker
Litter Cleaning Made Easy
A Design As Elegant As It Is Practical!
Imagine a litter box designed to allow your cat to feel safe and to allow you to easily maintain litter. That's what we did.
With integrated handles, soft, rounded corners and high flexible edges, the LitterBox makes maintenance quick and easy.
The Best Cat LitterBox by LitterLocker
Open litter box – 360 Vision – Allows your cat to feel safe.
High and flexible edges. Preventing litter overflows.
Integrated and practical handles. Folds effortlessly, facilitates the transport and disposal of soiled litter.
Integrated spout for easier soiled litter pouring plus indicates from which side to pour soiled litter.
Curved base for easy and quick cleaning.
Attractive design with shiny pattern.
Comfortable fit. Adapts to the average size of an adult cat, while big enough for your cat's comfort.
Ideal litter level Indicator. Glossy finish on the inside to indicate the ideal level of litter and pouring direction.
Made of a soft and flexible material adapting to small spaces.
Dimensions: L 56.65 x W 44.70 x H 40.65 cm
Using our open cat litter box, which is adapted to the size of an average adult cat, your cat will feel safe without being bothered by odours. The open dome allows for a 360-degree view, and the sides are high enough to prevent any damage your cat might cause.
The level indicator lets you always add the right amount of litter for your cat, and the soft material allows you to install it into small spaces.
How many litter boxes should be available in a house with two cats?
It is simple to calculate: Number of litter boxes = Number of cats + 1. It is important that they are in different rooms, since you will prevent all the litter boxes from being in one "territory", which may be protected by one cat, obliging the other cats to find another place to do their business.
Why some cats scratch the walls of the litter box?
Because that's how they learned to do it from their mother. Burying its feces is instinctual in cats, but the way of doing it is learned. Many kittens never see their mother bury her feces, since the mother must use a litter box with a lid or where she is hidden. It is possible that, since the kittens did not see their mother scratching, they did not learn how to do it properly.
Did you know that many cats do not like covered boxes?
Because they are in a vulnerable position when they go to the washroom. Cats must be able to check their environment and see any potential dangers.
Designed For Cats And Cat Owners.
Your cat will love LitterLocker LitterBox as much as you do. Your love story will continue thanks to the design as convenient for you as it is for him.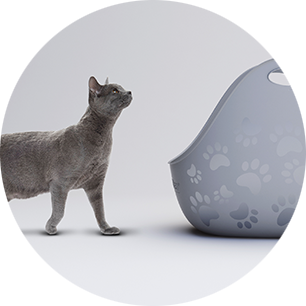 At the front, the opening is low enough to allow easy entry of a medium size adult cat. Inside, it has enough room for its comfort. And the raised back wall helps to keep litter inside when your cat scratches to bury his litter.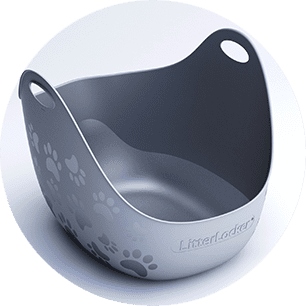 With the litter level indicator, it's now so easy to keep the level perfect. Your cat will thank you. The glossy finish inside the litter tray also tells you from which direction to pour the litter.
The complete design of the LitterBox has been researched and designed for ease of use and maintenance. Easy to clean for a satisfied cat owner!
Thanks to the unique roofless concept, the LitterBox by LitterLocker makes your cat feel safe. He can look around freely and have a 360◦ view of his surroundings.
Simplifies cleaning and avoids overflows.
For an easier soiled litter pouring.
Simplifies cleaning and avoids overflows.
Helps to clean quickly and easily.
Marry the shape of the litter thanks to the rounded end and clings on the litter box.